You Are Loved
Regular price

£400.00
Sale price
Pickup currently unavailable
Share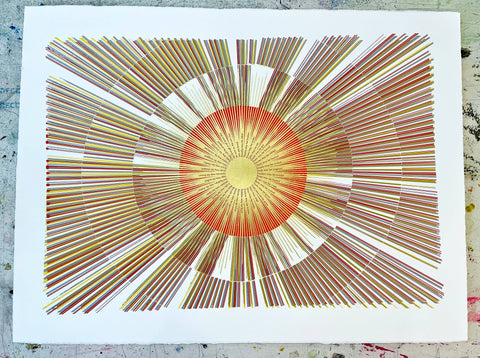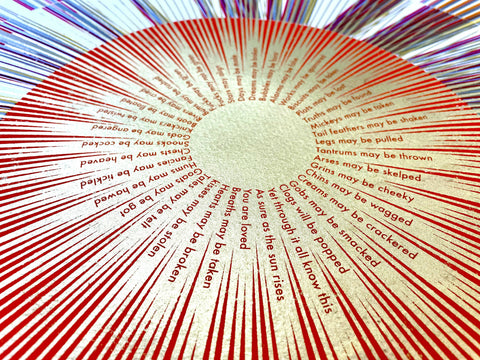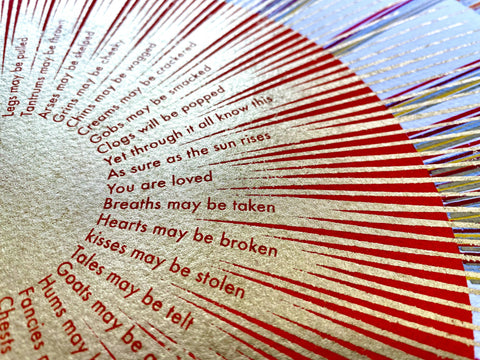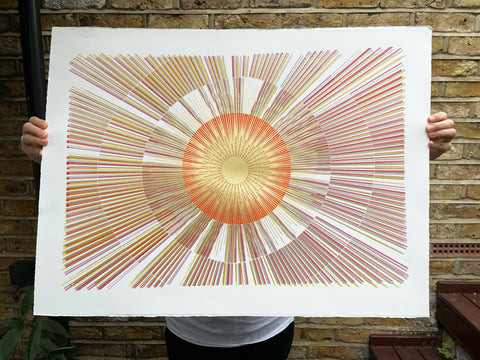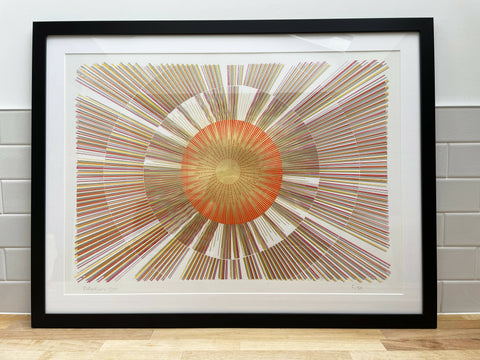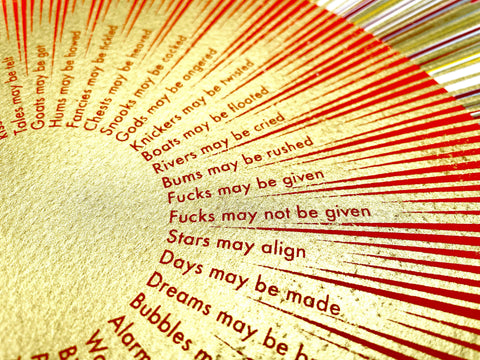 After a difficult year it's easy to forget that things will get better. This piece is a reminder that no matter what life throws at you, it can be overcome. Keep going because you are loved.
The text reads - Breaths may be taken, Hearts may be broken, Kisses may be stolen, Tales may be telt, Goats may be got, Hums may be hawed, Fancies may be tickled, Chests may be heaved, Snooks may be cocked, Gods may be angered, Knickers may be twisted, Boats may be floated, Rivers may be cried, Bums may be rushed, Fucks may be given, Fucks may not be given, Stars may align, Days may be made, Dreams may be broken, Bubbles may be burst, Alarms may be false, Works may be spannered, Biscuits may be taken, Plots may be lost, Truths may be found, Mickeys may be taken, Tail feathers may be shaken, Legs may be pulled, Tantrums may be thrown, Arses may be skelped, Grins may be cheeky, Chins may be wagged, Creams may be crackered, Gobs may be smacked, Clogs will be popped, Yet through it all know this, As sure as the sun rises, You are loved.


6 colour hand-pulled screenprint on Somerset Textured 300gsm paper
Hand finished with 24 carat gold leaf.
Print dimensions  56cm x 76cm
Signed edition of 50
The print comes in two options - red or orange.
Please note each print is hand finished with gold leaf to order so delivery times may be slightly longer.
Product Policy
TESTIMONIALS
Don't take our word for it - find out why artists and customers use SOTA below.
"We were looking to re-decorate our kitchen and were recommended SOTA by a friend and it was brilliant. We bought three pieces and will definitely be using the site again."
Elizabeth, Customer
"SOTA is a great platform for selling your work. I have sold a collection of fine art prints, and this would never have happened without SOTA since it reaches so many potential buyers. I can't recommend it highly enough."
Polly, Artist
"As an emerging artist, SOTA is a fantastic community to be a part of. The people behind SOTA are genuinely supportive and actively involved in promoting your work."
Carmen, Artist
"The speed of delivery, quality of packaging and service were all excellent. The paintings themselves even better in real life."
Steve, Customer
"The options on SOTA.. are almost growing as quickly as the business itself."
Great British Entrepreneur Awards