Wonke's Envisioned Self/Ep3 S1 of "The Envisioned Self" (A1)
Regular price

£120.00
Sale price
Pickup currently unavailable
Share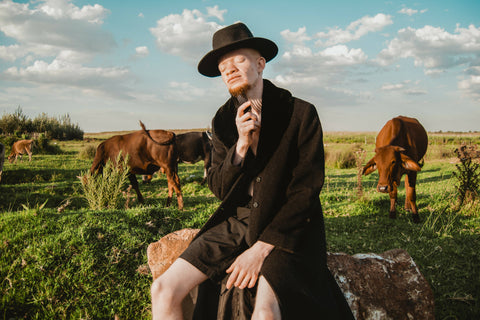 Cotton baryta archival print
Image and paper size: 594 x 841mm (A1)
Edition of 5 + 2AP


"The Envisioned Self" series 
With this episode the photographer asks everyone a very distinctive and unsophisticated question. "what's black, who's black?" Yet, only a few are able to answer this simply because highly sensitive issues are seldom discussed outside the circle of blackness being defined by pigmentation. Being black is not only defined by skin color and outlooks, but also values, beliefs and a mental attitude.
Unlike other episodes this one is expressed in color mainly to emphasize Wonke's albino skin and also to get across the message that being black has nothing to do with color but every distinction in the ethnic sense as to what culturally and psychologically defines black.
Majority of the images in the series are presented in black and white to reference the vast black and white
photography that was produced during the Apartheid regime in South Africa. When I think of black and white
imagery in South Africa, I think of a very traumatic visual history, one where we are victims, where we are
abused, violated, mistreated and killed such as the ever-famous image by Sam Nzima of a dead Hector
Peterson being carried by his sister. My intention with this series is to create a more calm black and white
representation of black people, a more beautiful one, where no black person is being violated or abused, instead
these images serve to tell meaningful black narratives and show the world that we are not always going through
Product Policy
TESTIMONIALS
Don't take our word for it - find out why artists and customers use SOTA below.
"We were looking to re-decorate our kitchen and were recommended SOTA by a friend and it was brilliant. We bought three pieces and will definitely be using the site again."
Elizabeth, Customer
"SOTA is a great platform for selling your work. I have sold a collection of fine art prints, and this would never have happened without SOTA since it reaches so many potential buyers. I can't recommend it highly enough."
Polly, Artist
"As an emerging artist, SOTA is a fantastic community to be a part of. The people behind SOTA are genuinely supportive and actively involved in promoting your work."
Carmen, Artist
"The speed of delivery, quality of packaging and service were all excellent. The paintings themselves even better in real life."
Steve, Customer
"The options on SOTA.. are almost growing as quickly as the business itself."
Great British Entrepreneur Awards