The Alphabet Of More
Regular price

£280.00
Sale price
Pickup currently unavailable
Share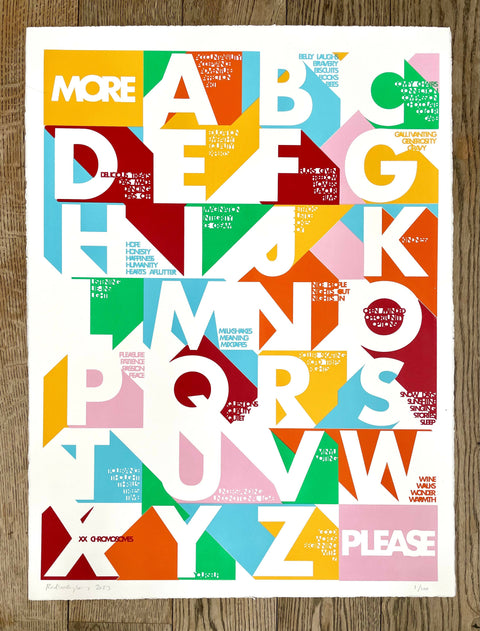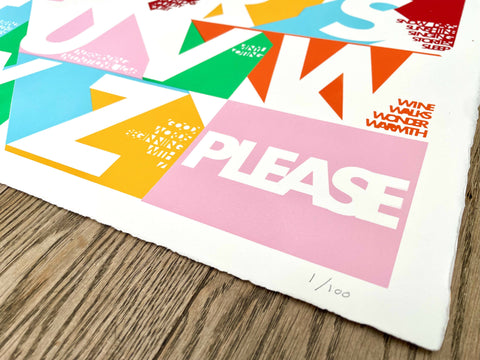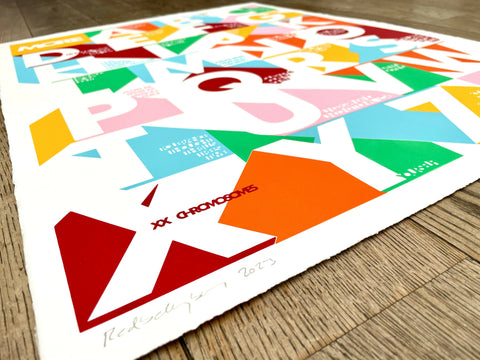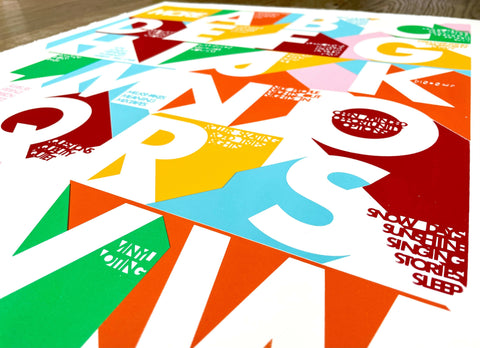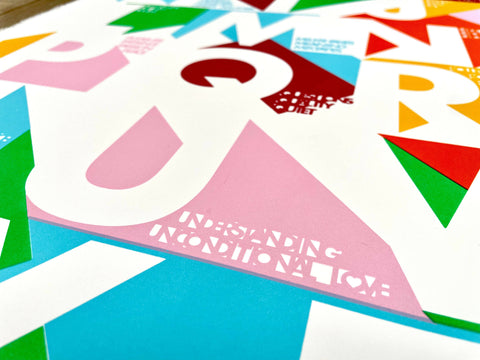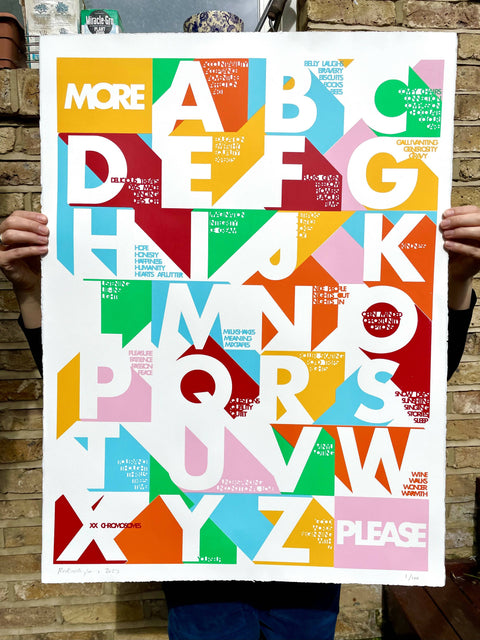 The Alphabet Of More is a 6 colour hand pulled screen print on 300gsm Somerset Satin paper. It's a signed limited edition of 100. The dimensions are 56cm x 76cm.
The print is a colourful manifesto for making the world a better place. Here's what each letter contains - 
MORE...
A – ACCOUNTABILITY, ACCEPTANCE, ADVENTURE, AFFECTION, ART
B – BELLY LAUGHS, BRAVERY, BISCUITS, BOOKS, BEES
C – COMFY CHAIRS, CONNECTION, COMPASSION, CHOCOLATE, COLOUR, CARE
D – DELICIOUS TREATS, DAYS MADE, DANCING, DAYS OFF
E – EDUCATION, EMPATHY, EQUALITY, EXPERTS
F – FUCKS GIVEN, FREEDOM, FLOWERS, FLAVOUR, FILMS
G – GALLIVANTING, GENEROSITY, GRAVY
H – HOPE, HONESTY, HAPPINESS, HUMANITY, HEARTS AFLUTTER
I – IMAGINATION, INTEGRITY, ICE CREAM
J – JETPACKS, JUSTICE, JOKES, JOY
K - KINDNESS
L – LISTENING, LIE-INS, LIGHT
M – MILKSHAKES, MEANING, MIXTAPES
N - NICE PEOPLE, NIGHTS OUT, NIGHTS IN
O – OPEN MINDED, OPPORTUNITY, OPTIONS
P – PLEASURE, PATIENCE, PASSION, PEACE
Q – QUESTIONS, QUALITY, QUIET
R – ROLLER SKATING, ROAD TRIPS, RIGHTS 
S – SNOW DAYS, SUNSHINE, SINGING, STORIES, SLEEP
T – TOLERANCE, THOUGHT, THRILLS, TREES, TIME
U – UNDERSTANDING, UNCONDITIONAL LOVE
V – VINYL, VOTING
W – WINE, WALKS, WONDER, WARMTH
X – XX CHROMOSOMES
Y - YOURSELF
Z – GOOD WORDS BEGINNING WITH Z
...PLEASE
Product Policy
TESTIMONIALS
Don't take our word for it - find out why artists and customers use SOTA below.
"We were looking to re-decorate our kitchen and were recommended SOTA by a friend and it was brilliant. We bought three pieces and will definitely be using the site again."
Elizabeth, Customer
"SOTA is a great platform for selling your work. I have sold a collection of fine art prints, and this would never have happened without SOTA since it reaches so many potential buyers. I can't recommend it highly enough."
Polly, Artist
"As an emerging artist, SOTA is a fantastic community to be a part of. The people behind SOTA are genuinely supportive and actively involved in promoting your work."
Carmen, Artist
"The speed of delivery, quality of packaging and service were all excellent. The paintings themselves even better in real life."
Steve, Customer
"The options on SOTA.. are almost growing as quickly as the business itself."
Great British Entrepreneur Awards