PLUME [2022]
Regular price

£220.00
Sale price
Pickup currently unavailable
Share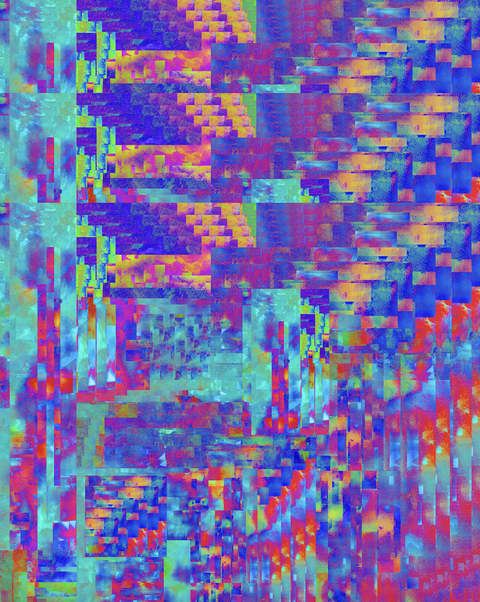 'FEATHER LIGHT PLUME, EMERGING ROOM, WHILST MINDS ERUPT, IN MOTELY BLOOM'
PLUME is part of the FLOURISH collection, and based on the DEVOID poem of the same name. FLOURISH offers an ongoing adventure in experimental digital abstract pieces. FLOURISH pieces are digital collages built from undoing an original abstract piece and using its own source code as components of a new composition that channels 90s video games, pixel art, VHS tracking errors, and more in a playful take on abstract minimalism full of loops, ghosting, and logarithmic echos.
There are only 10 available, each one signed and numbered.
PLUME measures 19" x 24" with a 2" border. It is printed on museum-quality archival paper with colour fast inks that withstand fading. 
Like all DEVOID pieces, it features a playful psychedelic skew on abstract minimalism - influenced heavily by a fascination with 90s video game culture, science fiction, pixel art, and a curiosity with the intersection between these environments and the work of artists like Jackson Pollock, Carmen Herrera, and Frank Stella. 
DEVOID pieces have become favourites with contemporary artists, with Tom Sachs, Kalen Iwamoto, and Jack Kaido being noted collectors of previous collections. 
Within PLUME, you'll find a host of digital aberrations, hallucinatory visuals, and artwork that seems to span multiple dimensions in space at the same time. Also, note that DEVOID pieces tend to have a heavy influence of squares and cubes - linking back to DEVOIDs first collection - a metafiction tale told through a collection of digital fine art about a square that vows to escape its 2D canvas.
Product Policy
TESTIMONIALS
Don't take our word for it - find out why artists and customers use SOTA below.
"We were looking to re-decorate our kitchen and were recommended SOTA by a friend and it was brilliant. We bought three pieces and will definitely be using the site again."
Elizabeth, Customer
"SOTA is a great platform for selling your work. I have sold a collection of fine art prints, and this would never have happened without SOTA since it reaches so many potential buyers. I can't recommend it highly enough."
Polly, Artist
"As an emerging artist, SOTA is a fantastic community to be a part of. The people behind SOTA are genuinely supportive and actively involved in promoting your work."
Carmen, Artist
"The speed of delivery, quality of packaging and service were all excellent. The paintings themselves even better in real life."
Steve, Customer
"The options on SOTA.. are almost growing as quickly as the business itself."
Great British Entrepreneur Awards