Nirvana 2 Limited Edition
Regular price

£120.00
Sale price
Pickup currently unavailable
Share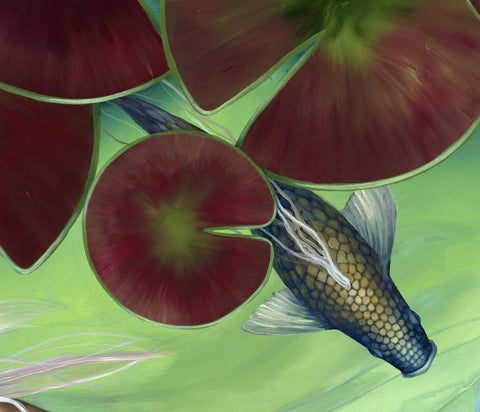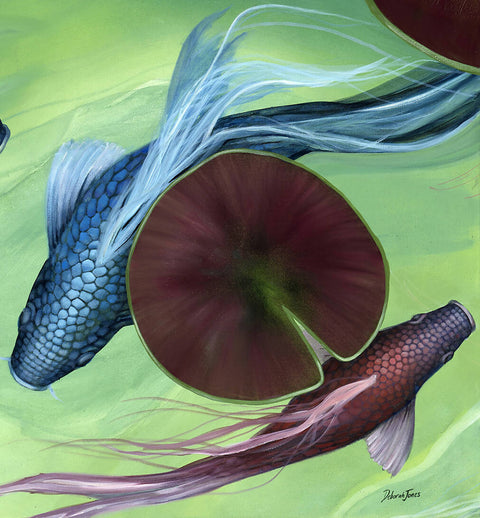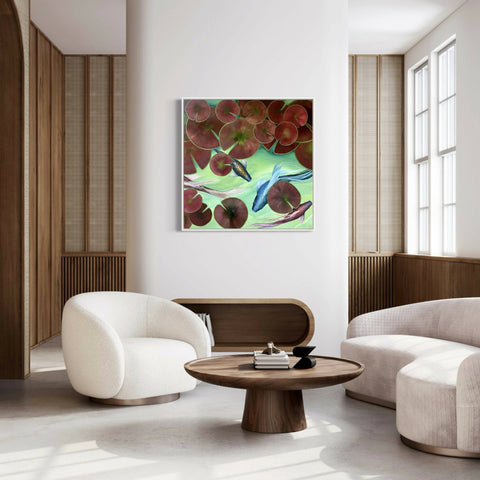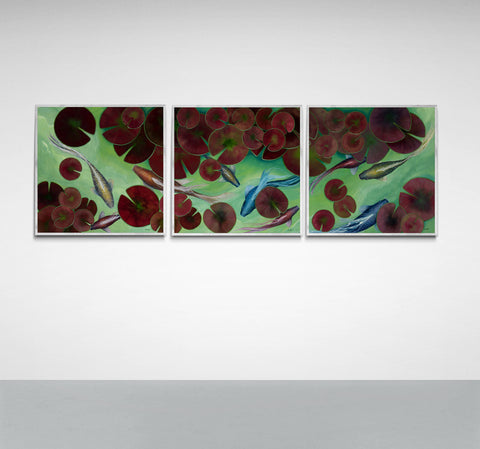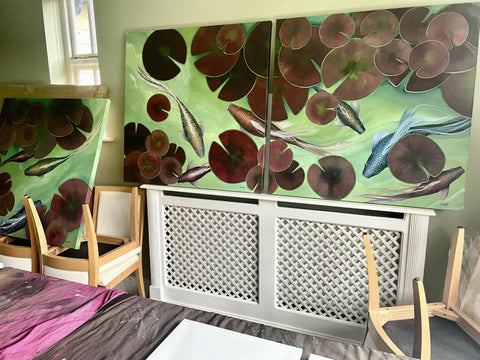 Limited Edition 1/100
Available in 4 sizes. 

1" border surrounding the print, signed, numbered. Each print comes with a certificate of authenticity & declaration. 
The artwork is featured in the August 2023 issue of Suboart Magazine.

The original artwork is at The Hyde Gallery in London. Nirvana 2 is part of a triptych that I painted for the feature wall on my stand at The Other Art Fair London 2023.

I wanted the piece to be of a heavenly setting, where the viewer is taken to a calm & tranquil state, to create not just a painting but a mood & scene to flow across 3 canvases.
Nirvana, a state of freedom from sorrow & happiness but also an ideal or idyllic place.

My largest painting to date. I like to work on a large scale, to give me freedom of space & composition, creating bold fish & lily pads contrasting with the subtle green of the water.

I poured washes of water mixable oil over 3 canvases, then moved the oil in a way to simulate the flow & movement of natural water. My passion for painting koi comes from living near beautiful lakes with carp ponds near by. Koi are a symbol of good luck & spiritual abundance. I painted three koi on each canvas, totalling nine which is also a significant lucky number.

The colour pallet that I use for my artwork is influenced by current colour trends in interiors & also inspired by nature.

I created 3 separate canvases with the option that the three would be kept together, or to be sold as separate pieces of art
Product Policy
TESTIMONIALS
Don't take our word for it - find out why artists and customers use SOTA below.
"We were looking to re-decorate our kitchen and were recommended SOTA by a friend and it was brilliant. We bought three pieces and will definitely be using the site again."
Elizabeth, Customer
"SOTA is a great platform for selling your work. I have sold a collection of fine art prints, and this would never have happened without SOTA since it reaches so many potential buyers. I can't recommend it highly enough."
Polly, Artist
"As an emerging artist, SOTA is a fantastic community to be a part of. The people behind SOTA are genuinely supportive and actively involved in promoting your work."
Carmen, Artist
"The speed of delivery, quality of packaging and service were all excellent. The paintings themselves even better in real life."
Steve, Customer
"The options on SOTA.. are almost growing as quickly as the business itself."
Great British Entrepreneur Awards