Contrast on Life by Bakri Moaz
Regular price

£250.00
Sale price
Pickup currently unavailable
Share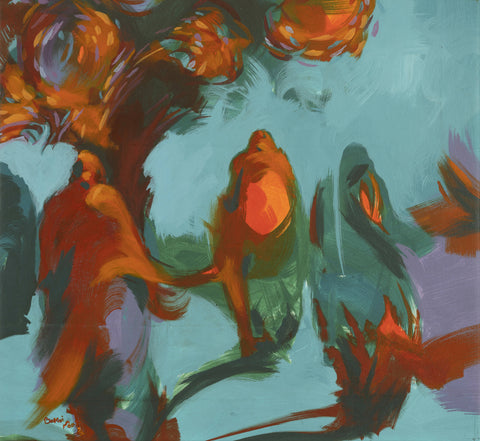 Born in 1993,  Abubakr (Bakri) Moaz  is a visual artist  raised and living in Khartoum, Sudan.  In April 2023 when fighting broke out in Khartoum, Bakri's studio was in the middle of the crossfire.  He fled first to the countryside and then to Nairobi, Kenya, having to abandon most of his artwork. 
Bakri graduated in 2022 in Fine Arts from the Painting Department of Sudan University of Science and Technology.  His extended family lives near the east Nile, and sitting near rivers or under big trees is a source of inspiration to him.
In the context of Sudan, which has experienced dramatic economic and political upheaval, Bakri's work discusses the relationship between the material and the spiritual.  He focuses on the human search for truth and that which is called divine.  His works can be interpreted as a raw reflection of the search for purpose and the quest of life. 
Bakri was the co-founder of Zan Arts Studio, a hub for Sudanese fine arts.  The studio opened in 2017, which ushered in a sea of opportunities for many local artists and rapidly became a force in the regional art scene. 
Also a musician, Bakri  is one of the Safrajat band members. This group formed in 2018 as a part of the revolution in Sudan which saw many artists and musicians coming together to protest and collaborate. During this time the artist was also involved in mural painting all over Khartoum and other cities in Sudan as part of the revolution. His painting looks to the elders to lead us to a better place,  and to be able to exert our power and humanity to live our lives fully and creatively. 
ith his vibrant use of color and thick application of pigments, Bakri's distinctive work is in collections on 4 continents and has been exhibited from Kenya and Zimbabwe to Dubai to Germany and Portugal.  He was a finalist and award-winner in the pan-African Emerging Painting Invitational 2022.  His second solo exhibition, Behind the Wheel, was held at the Downtown Gallery, Khartoum in 2022.  His work is currently in a touring European group show Disturbance in the Nile and a group show Cartwheels of Estrangement in Nairobi, Kenya.
@bakrijack
This work is avaiable in 40x40cm prints in matte or satin (or giclee) in a limited edition of 8.
Instagram @bakrijack
Product Policy
TESTIMONIALS
Don't take our word for it - find out why artists and customers use SOTA below.
"We were looking to re-decorate our kitchen and were recommended SOTA by a friend and it was brilliant. We bought three pieces and will definitely be using the site again."
Elizabeth, Customer
"SOTA is a great platform for selling your work. I have sold a collection of fine art prints, and this would never have happened without SOTA since it reaches so many potential buyers. I can't recommend it highly enough."
Polly, Artist
"As an emerging artist, SOTA is a fantastic community to be a part of. The people behind SOTA are genuinely supportive and actively involved in promoting your work."
Carmen, Artist
"The speed of delivery, quality of packaging and service were all excellent. The paintings themselves even better in real life."
Steve, Customer
"The options on SOTA.. are almost growing as quickly as the business itself."
Great British Entrepreneur Awards