Abuti Tokelo & Abuti Abraham's Envisioned Self - Episode 1, 21 June 2021 - Katlehong, South Africa (A3)
Regular price

£80.00
Sale price
Pickup currently unavailable
Share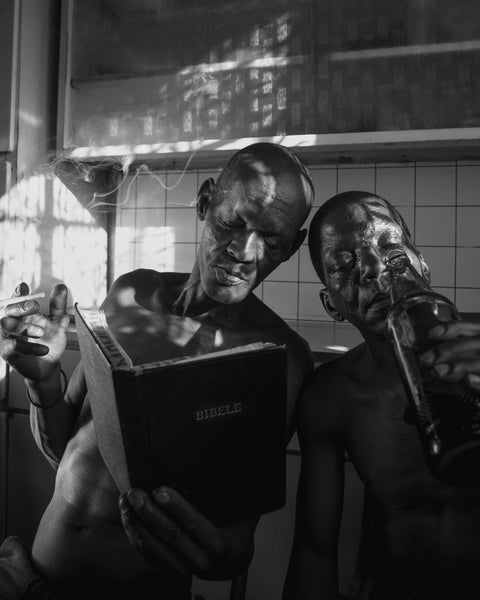 Cotton baryta archival print
Image and paper size: 297 x 420mm (A3)
Edition of 8 + 2AP
Growing up I always found it difficult to identify with myself as a black person and I can openly admit that I used to find a lot of solace in close identification with white society, from always yearning for lighter skin to wishing I had straightened hair. When taking pictures in high school I would often compress my lips to make them appear thinner to hide their fullness. I was drowning in racial self-loathing and I was unaware of it. On my 18th birthday I was gifted a book titled "I
Write What I Like" which is a collection of writings by the late anti-apartheid activist Steve Biko. Prior to receiving the book, I had always had an interest in learning about Biko, mainly because of how highly the people of my community would speak of him. So to me he had always been this admirable enigmatic figure. Knee-deep in the foreword of the book the expression "The Envisioned Self" is repeated numerous times and is defined by Biko as a ''free self'', ''a living reality achieved in the social sphere out of the agency of free people.'' After reading the book, I developed this new found love for blackness, particularly a love for stereotypical black features. A love that I never used to have. I had never been so proud to claim my blackness, so proud that I finished reading the last page of the book with a soliloquy by saying ''Steve Biko taught me how to be black''
With this series I became fascinated by the idea of aestheticizing stereotypical black features through usage of composition. With Khan (Episode 1) being the first person I shot for this series, I was so captivated by his dark complexion, full lips and how all these features looked beautiful and unique when the composition was well thought out. The format is very editorial as initially my interest was to just create a beautiful representation of stereotypical black features but as the project evolved I became interested in referencing my cultural and religious practices from episode 7 onwards to give the project more depth. The series solely features black people, mostly from my community in Katlehong, friends and mutual friends. The selection process for my subjects is very intuitive as it starts with me having an interest in one's stereotypical black features eg. Khan's dark skin in episode 1 or Lerato's full lips in episode 1. Through coincidence, I decided to keep my subjects' eyes shut throughout the entire series as it increased the aesthetic power of the images but what I realised is that this act also serves as an inward looking process for the subjects. Because I believe one's Envisioned Self lies within himself. This act of closing your eyes is a way to look for your true self, a free self and most importantly a proud self.
The images in the photo series are all divided into episodes, just like you would have in a TV series to make the subjects distinguishable from each other. So ultimately the body of work is a "TV-Photo Series" and you can tune into episode 7 to watch Ntate Molebatsi try to attain his "Envisioned Self" by reading the bible with his eyes closed in church. Majority of the images in the series are presented in monochrome however episode 4 which is titled "Wonke's Envisioned Self''' is the only episode presented in colour, mainly to emphasize Wonke's albino skin. Albinism in my experience has left a lot of people in my community puzzled because of the preconception that ''in order for you to qualify as being black, your skin has to be black'' but that presumption is utterly wrong because believing that means you are robbing Wonke the right to claim his blackness and Steve Biko eloquently combats that ill-thinking by saying : "Being black is not a matter of pigmentation - being black is a reflection of a mental attitude."
I once read a research article by the psychology department of Georgia State University and the study found that individuals with stereotypical black features are most likely to be associated with negative traits like violence, aggressiveness and criminality but what stood out for me was the research also found that individuals with stereotypical black features are vulnerable to misidentification. That finding reminded me of my friend Lerato from Episode 3 who has been a victim of misidentification in the township of Vosloorus. His community was looking for a tall dark-skinned male suspect who stole a phone and Lerato obviously fit that description. He almost became a casualty of mob justice but was later saved by his mother who defended him by proving that he had been at home when that incident occurred. All I am interested in is creating beautiful images of these people whom I used to think were "ugly" because I was so insecure about my blackness. I believe that true beauty is always hidden behind ugliness and that's what I have decided to image in this series. The beauty behind the ugliness.
The Envisioned Self will never die, I Shoot What I Like.
Product Policy
TESTIMONIALS
Don't take our word for it - find out why artists and customers use SOTA below.
"We were looking to re-decorate our kitchen and were recommended SOTA by a friend and it was brilliant. We bought three pieces and will definitely be using the site again."
Elizabeth, Customer
"SOTA is a great platform for selling your work. I have sold a collection of fine art prints, and this would never have happened without SOTA since it reaches so many potential buyers. I can't recommend it highly enough."
Polly, Artist
"As an emerging artist, SOTA is a fantastic community to be a part of. The people behind SOTA are genuinely supportive and actively involved in promoting your work."
Carmen, Artist
"The speed of delivery, quality of packaging and service were all excellent. The paintings themselves even better in real life."
Steve, Customer
"The options on SOTA.. are almost growing as quickly as the business itself."
Great British Entrepreneur Awards